ABOUT THE TRAINER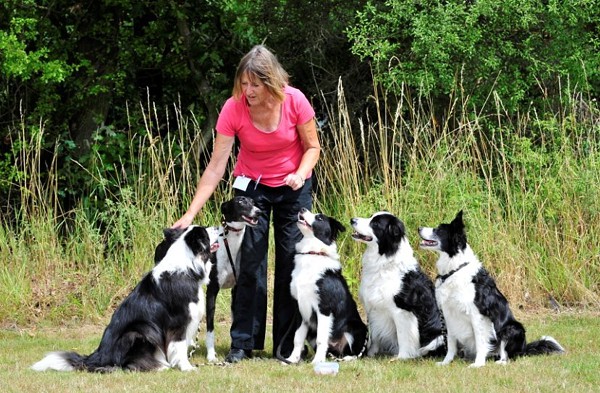 Barbara with Misty, greyhound Sadie, Harry, Connor and Jess
Hi, I am Barbara and I am pictured above with my dogs who you will meet from time to time at Dog Training. I am a professional and competent dog trainer with 30 years experience.
I am a Kennel Club Dog Training and Canine Behaviour Scheme Accredited Instructor in CD.,GCDS.,Ob.Adv.

I compete in competitive obedience shows organized around the country and licensed by The Kennel Club. I also Judge at Kennel Club licensed Obedience events. I consider myself to be quite successful in competitive obedience and have won numerous classes with a variety of my dogs past and present. My current dogs that I compete with are Connor who works Championship 'C' and Jessica who competes in open 'C' classes. Jessica was selected to work 'A' class as a member of the Southern Obedience Team at Crufts 2010 . The team won! (see below photo of me and Jess at Crufts). I also compete with my young Border Collie, Misty who works A and B classes in obedience.
My Greyhound, Sadie does not compete but this year has achieved her Bronze and Silver Kennel Club Good Citizen awards. In 2013, I have a new Border Collie puppy named Harry. He will be one year in February 2014 and I am hoping to start competing with him this year.
I have run my own club now for over eight years and prior to this I was a committee member and trainer with a registered club for about ten years. I thoroughly enjoy helping members to train their dogs and I find it very rewarding to see the progress of both dogs and owners becoming a real partnership. As well as running the club I offer one-to-one training and home care services for those who need this. If you join my club I do hope you enjoy training your dog as much as I enjoy supporting you to do this. I hope you all continue to have many happy and enjoyable times with your four legged friends.

2012. Barbara with Misty, Connor, Jess and new arrival, greyhound Sadie.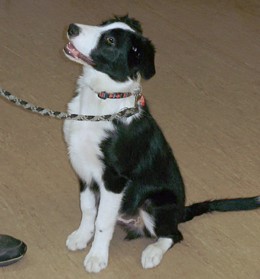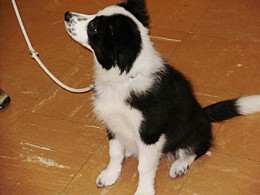 Harry (left) and Misty receive their first formal training as puppies.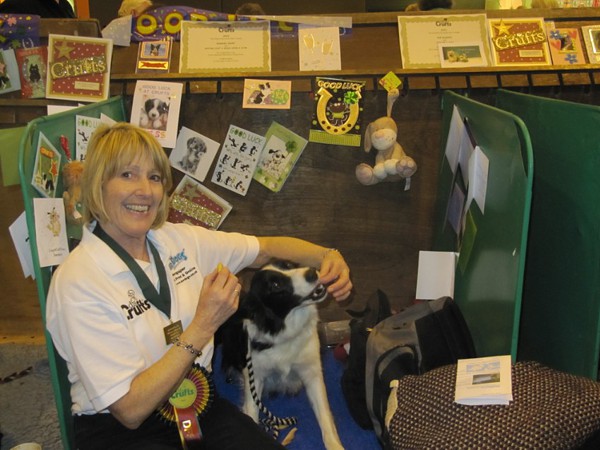 Barbara on the benches when competing at Crufts.
I WISH ALL OF YOU SUCCESSFUL TRAINING AND A REWARDING RELATIONSHIP WITH YOUR DOG. ENJOY YOUR TIME WITH THEM.