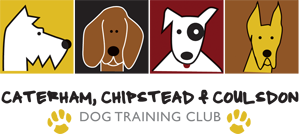 CURRENT NEWS
PUPPY COURSE STARTS Afternoon & eves 19th Feb at Old Coulsdon PLEASE SEE CALENDAR FOR OTHER AVAILABLE TRAINING IN 2018.

CURRENT CLUB ACTIVITIES
Mon/Tues/Thurs. PUPPY TRAINING; IMPROVER Classes; AGILITY; COMPETITIVE DOG TRAINING and KC GOOD CITIZENS DOG SCHEME/ADULT/RESCUE DOG. PERSONAL TUITION.
For news and photos of our recent events, see
HERE

CURRENT FORTHCOMING EVENTS
NEW Course: RALLY (Dog Obedience); K.C. GOOD CITIZEN DOG SCHEME PUPPY FOUNDATION; BRONZE; SILVER; GOLD. Competitive Obedience.